Members' News
A page devoted to the exploits and adventures of PTA members who have either taken part in non-PTA events, or have their own news stories and views about anything and everything 'gundog'. This page is here by request so it's up to all of you to let us know your stories.
Please mail items and photos to Karen Parkinson, or let us know next time you see a Committee member or myself.
---
20th May 2018 – LRC of Wales Novice Working Test – Neuadd Cwmyoy (near Abergavenny)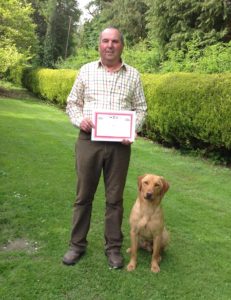 Well done to PTA member Danny Astley.
With his Labrador dog Shadeoak Rusty (aka Dipper – not even 2 years old) Danny finished in first place after a run off in a field of thirty nine dogs.
---
13th May 2018 – Burns & Becks Gundog Cub Working Tests – Winster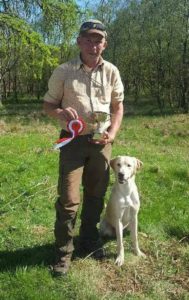 Well done to all PTA members who received awards. Noteably:
PTA Committee member Mark Palmer for the award for Best Puppy under 12 months with Calonbridge Diplomat.
Second place in the Novice Test went to Avril Marland with Torrisdale Loch, and fourth place was awarded to PTA Committee member Mike Nelson with Turpin Green Curry.
In the Open category second place went to Amy Collier with Brocklebank Vital, and Scott Marland took third place with Greenbrier Tame.
---
5th and 6th May 2018 – North West Labs Working Tests – Drakeshead
Congratulations to PTA member Alan Pearson with Kenquince Rising Kite who was awarded first place in the prestigious Novice Test held at Drakeshead, and also to PTA Training Co-ordinator Gary Collier who finished third in the Open competition.
"North West labs Open Test at the stunning Drakeshead kennels what a challenging day technically difficult but achievable tests – cover, ditches, fences, double ponds, moorland ,baking hot sunshine. 1 point between the top 3 dogs.
Great test good company."
Gary Collier. PTA Training Co-ordinator.
---
22nd April 2018 – URC Working Tests – Lazonby
"Massive well done to our Committee members Karen Parkinson and Michael Nelson for their awards in the URC Northern Novice test today, and another massive well done to our Committee member Gary Lakey for 1st and 3rd in the Open at the same venue.
Special mention goes to our club webmaster and training class member Phil Gilmore for winning the Puppy with Sally – his promising young yellow bitch.
Added to training class regular Scott Marland's Open award proof if any were needed that we are on the right LINES with the club's training policy and test standards. 
Well done you guys."
Gary Collier – PTA Training Co-ordinator.
Additional PTA success at Lazonby came in the form of Christine Thompson's second place in the Puppy, and Barry Prescott's second in the Open.
---
2nd September 2016 – Individual Open Gundog Working Test – Chatsworth Country Fair
It was a clean sweep for the PTA. Roz McIlroy finished second, Gary Collier third, and Scott Marland fourth. However first place, and not for the first time this year, went to Junior Member Miss Amy Collier who gave a sublime and composed display of dog handling, followed by a magnanimous winner's speech served up to an eager and appreciative audience. Amy was presented with the winner's trophy and Amy's proud mum Louise was presented with a bottle of champagne. Pass the tissues. Brilliant.
---
10th July 2016 – Lancs & Mersey Field Trial Society Novice Working Test for AV Retrievers – Meols Hall
Congratulations are due to the winner of the competition – PTA member Mr Sydney Ralphs with his Lab.D Thornyoaks Nightshade who produced a memorable display with a total of 127 points.
I'm sure I can speak on behalf of all PTA members – well done Syd  – a very deserving winner.
---
8th May 2016 – Dove Valley Working Gundog Club Open Working Test for AV Retrievers – Yoxall Lodge
In his own words PTA member Keith Aldred said that he'd had 'a bit of an extraordinary day' on Sunday.
Keith and 'Nev' (FCR.D Donascimento Santos) were awarded the Connie Cup for finishing in 1st place in a field of 35 dogs (consisting 32 Labs, 2 FCRs, 1 GR, and including a FT Champion and several FT winners).
There were six tests during the day including two retrieves from water, the second of which saw twelve dogs fail.
More details on the Dove Valley Results page. Their headline reads 'First – Keith Aldred with his very stylish Flatcoat'. Well done Keith.
---
1st May 2016 – Lancashire & Merseyside Field Trial Society walked up Open Working Test – Chipping
PTA member Peter Thompson awarded first place. More details required – please mail to: Secretary
---
17th April 2016 – Northumberland & Durham Puppy Test – Wemmergill Estate
Steve Burns and Eider achieved a third place in a close run competition where only a few points separated the first three places. The event had to be rescheduled at short notice due to waterlogging of the original venue at Scotchcoulthard. The Northumberland & Durham Labrador Retriever Club worked wonders to move the test to a new location and should be commended for their efforts.
---
17th April 2016 – Clwyd Spring Open Working Test – Gwysaney
Congratulations to the father and daughter team of Gary and Amy Collier for finishing first and second in the 40 dog Open test. PTA Chairman Trefor Richards watched events unfold and commented that the rest of the field had provided stiff competition which made a truly great display from one of our junior members all the more memorable.
---
10th April 2016 – URC Working Tests – Lazonby
A contingent of PTA members took part with Amy Collier and Ozzie winning the Novice, Gary Lakey and Mick Kay taking first and fourth places in the Puppy, with Emma Haslam and Gary Lakey both gaining a Certificate of Merit in the Open test.
---
9th April 2016 – Vale of York Puppy Test
A text message told of two of our valiant Committee members venturing over the Pennines – both acquitted themselves well. Steve Burns came fourth and Jim Murphy was awarded a Certificate of Merit.
---
3rd April 2016 – Northumberland & Durham Puppy Test
A grueling round trip to Hexham proved worthwhile for Steve Burns and 'Eider' (Eiderbay Fastnet) who were awarded third place.