Results 2020
Working Test, Match, and other results for 2020 are listed here. Score cards are sometimes available as Adobe Portable Document Format (PDF) files. Please click on any 'Scores' links below to open the chosen file in a new window.
You'll need Adobe Acrobat Reader on your computer to allow you to read PDF files.
Click on the link below to download and install.


The results and rosettes awarded are colour coordinated as follows:
1st place: RED
2nd place: BLUE
3rd place: YELLOW
4th place: GREEN
Certificates of Merit can also be awarded.
PTA working test results will always be published as soon as possible.
2020 Working Test Results and Match scores – Reverse chronological order
---
Puppy (under and over 12 months), Novice Dog/Novice Handler, Novice, Veteran Working Tests for A.V. Retrievers – Sunday 15h March 2020 – Eagland Hill
By kind permission of Mr M and Mrs V Pilling
Judges: Mr G Lakey, Mr M Nelson, Mr P Thompson, Mrs V Waterfield
Chief Steward: n/a
Puppy Test (under 12 months)
1st place: Kayteridge Dreams – Mick Kay
2nd place: Jaycote Game Brooke – Scott Marland
3rd place: Cockerbank Jet Star – Brenda Lawson
Puppy Test (over 12 months)
1st place: Garagill Littlescot Able – Stuart Woodcock
2nd place: Ringbarn Fairmont of Jaycote – Lisa Marson
3rd place: Tideflow Willow – Steve Townsend
Novice Dog / Novice Handler Test
1st place: Castlerock First Glance at Whirleymere (FCR) – Charlotte Smith
2nd place: Castlerock Return to Sender at Skybrook (FCR) – Anne Haley
3rd place: Greenbriar Polka – Paula Mayo
Novice Test
1st place: Brocklebank Delight – Jill Cummings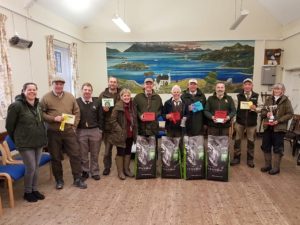 2nd place: Hawksgarth Maddison – Gary Collier
3rd place: Calonbride Diplomat – Mark Palmer
4th place: Jaycote Firefly at Turtonmoor – Adrian Blackledge
Veteran Test
1st place: Ruby Wishes – Steve Townsend
2nd place: Thornyoaks Tanzanite – Gary Collier
3rd place: Glenfia Amber – Darren Hope
Many thanks to judges Gary Lakey, Mike Nelson, Peter Thompson, Victoria Waterfield, landowners Mike & Val Pilling and all helpers.
Many thanks also to our sponsors: Wuffitmix, Gundog Gear, and Buchans Kennels.
---