Results 2018
Working Test, Match, and other results for 2018 are listed here. Score cards are sometimes available as Adobe Portable Document Format (PDF) files. Please click on any 'Scores' links below to open the chosen file in a new window.
You'll need Adobe Acrobat Reader on your computer to allow you to read PDF files.
Click on the link below to download and install.


The results and rosettes awarded are colour co-ordinated as follows:
1st place: RED
2nd place: BLUE
3rd place: YELLOW
4th place: GREEN
Certificates of Merit can also be awarded.
PTA working test results will always be published as soon as possible.
2018 Working Test Results and Match scores – Reverse chronological order

---
Match PTA v 12 teams competing in The Inter Counties Team Invitation Gundog Working Test – September 1st and 2nd 2018 – Chatsworth
The Inter Counties Team Invitation Gundog Working Test took place within the splendid surroundings of Chatsworth House with thirteen teams once again competing for The Chatsworth Country Fair Challenge Trophy.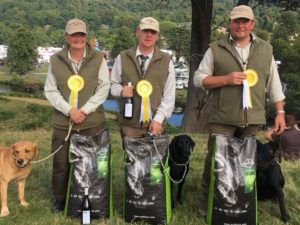 The PTA team of Roz McIlroy, Scott Marland, and Captain Gary Collier fell just short in their quest to match last year's first victory with an extremely creditable third place.
The large gallery were quick to applaud and cheer all the teams who put on an excellent exhibition of skilled gundog handling. As usual the event was extremely well organised and lead by Philip Smithies with the help of a dedicated team of volunteers. Judges were Mr A Schofield and Mr G Barnes, with Paul Dixon and Steve Burns providing the commentary.
"Congratulations to the Pennine Training Area team for coming 3rd in the annual working test 2 day event at Chatsworth yesterday.
On the Saturday we ended the day in 7th place, but on the Sunday managed to pull out all the stops to gain a very creditable 3rd, which means we will be invited back next year. Our team was the same as the one which won this event in 2017… Gary Collier and Bramble, Scott Marland and Ice, and Roz Mcilroy with Bolt.
All 3 dogs put in a solid performance and picked every dummy on very challenging ground, where most of the time you couldn't see your dog to handle, due to the height of the Bracken etc.,
Other distractions, for all competitors, included:- cheering, clapping spectators across the river, a very noisy fly fishing commentary to the right, screeching bagpipes to the left, fairground noise to the centre and air displays above. All the dogs coped very well, which goes to show just how amazing, and focused on the job these retriever breeds actually are. They really were a joy to watch.
Very well done to the Dukeries for coming in first place, Dove Valley 2nd, N&D 4th and KSS 5th. Thanks to all the judges, dummy throwers, commentators (one being our very own committee member, Steve Burns) and organisers of this event, especially Philip Smithies. Also thanks to the Duchess of Devonshire for presenting the prizes and allowing us to run at this very prestigious venue.
A special well done goes to Neil Appleton for winning top dog overall yesterday. His young dog Storm put in a cracking performance.
Already looking forward to next year."
Karen Parkinson. PTA General Secretary
---
Open Working Test for AV Retrievers – Sunday 5th August 2018 – Dalton Hall. (walked-up test in cover crop)
By kind permission of: n/a
Judges: Mr S McDermott, Mrs N Reynolds, Mr M Nelson and Mr P Thompson
Chief Steward: n/a
1st place: Robert Tomlinson with Pioneer Teal of Yukon Gold
2nd place: Scott Marland with Greenbriar Tame
3rd place: Chris Pilkington with Shadeoak Major
4th place: Amy Collier with Brocklebank Vital
Certificate of Merit: Jayne Coley with FTCH Flagon Hall Hermes of Waterford
Certificate of Merit: Bill Dewhurst with Kelmagra Billy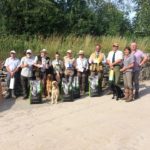 "Well our PTA test season ended on a high today with a fantastic day at our walked up test, in sugar beet, at Russell Farm in Dalton. The weather was very hot but the dogs managed to do some amazing work, with the best on the day coming to the fore. Very well done to all in the awards.
I would like to thank my fellow committee members for working extremely hard, on achieving what has been a very successful year for us. Also thanks to all the dummy throwers/helpers, judges, land owners and competitors.
We have had an unprecedented number of entries this year in every test, and the club is going from strength to strength.
Last but not least, I would like to thank our amazing sponsors – Wuffitmix and Hannah O'Hare who have kindly provided bags of top quality dog food for our award winners. Gundog Gear and Gary McCarthy for giving us vouchers for our football card winners and also Buchan's Kennels and Structures for their dog bowls.
May I also take this opportunity to remind people that Pennine also run club training sessions on a monthly basis, throughout the year. For details please see our website.
Have a fabulous time throughout Autumn and Winter either trialling your dogs or picking up on shoots etc…. And I for one, will look forward to next year's test season."
Karen Parkinson. PTA General Secretary
---
Puppy, Novice, and Open Working Tests for A.V. Retrievers – Sunday 1st July 2018 – Haighton

By kind permission of Mr Geoff Saint
Judges: Mr John Halstead, Mrs Nina Halstead, Mrs Brenda Lawson, Mr Kevin Knowles
Chief Steward: n/a
"Another hugely successful day for PTA Puppy, Novice, and Open working tests at Cowhill Haighton by kind permission of Jeff Saint and Robert. Despite sweltering conditions it was a good turn out. Every effort was made by the PTA to keep dogs and handlers cool. An enormous thanks to all the helpers throughout the day who were as always willing to give up there time to support the club."
Linda Scott. PTA Working Test Secretary.
Also a big thank you to our sponsors Buchan's, Gundog Gear, and Wuffitmix for their support and for prizes donated.
Puppy Test
1st place: Kim Dutton with Ashwynd Lemon Spirit
2nd place: Gary Collier with The First Knight
3rd place: Linda Scott with Brocklebank Carson 
4th place: Victoria Stanley with Craigmaddie Nevis
Puppy under 12 months award: Gary Collier with The First Knight
Novice Test
1st place: Paul Newton with Eiderbay Dillon of Brogdenview
2nd place: Morag Richie with Berrylaw Aberlour
3rd place: Avril Marland with Torrisdale Loch
4th place: Marilyn Smith with Garagill Tartar
Open Test
1st place: Steve Townsend with Ruby Wishes
2nd place: Barry Prescott with Kipperidge Rita
3rd place: Bill Dewhurst with Kelmagra Billy
4th place: Steve Townsend with Isle Of Man Cristen
COM: Chris Pilkington with Shadeoak Major
Highest placed Golden Retriever: Mr Robert Tomlinson with Pioneer Teal Of Yukon Gold
Paul Newton, winner of Novice commented:
"I just thought I would drop a note of thanks to all of the organisers judges and helpers at Pennine Training area for the terrific Novice working test held by kind permission of Geoff Saint at his fantastic training ground at Haighton.
The Novice working test was in my opinion superbly devised to ascertain whether the dogs competing were ready to progress through to Open which after all is what a Novice test should look to do. All of the judges were ready to offer constructive criticism and expert advice to all competitors all of whom I am sure gained a great deal from the day. The Pennine Training Area is a terrific club which is always welcoming to all and expertly led by Garry Collier does some excellent work in helping drive improvements in the standards of training of working Gundogs throughout the North West.
Long may it continue.
Thanks Again"
Paul Newton. PTA Novice Test winner.
---
Open Working Test for AV Retrievers – Sunday 10th June 2018 – Hoghton
By kind permission of Mr L Redfearn
Judges: Mrs L Mitchell, Mr K Jackson, Mr T Richards and Mr P Thompson
Chief Steward: n/a
1st place: Vicky Stanley with FTCH Patanavac Brough
2nd place: Amy Collier with Brocklebank Vital
3rd place: Gary Collier with Thornyoaks Tanzanite
Certificate of Merit: Alan Pearson with Kenquince Rising Kite
Certificate of Merit: Scott Marland with Greenbriar Tame
Certificate of Merit: Tony O'Hare with Lettergreen Rover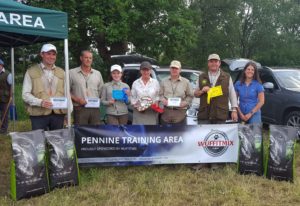 "All Gary Lakey's hard work gazebos, our generous sponsor Wuffitmix for prizes, our club banner and new signs. Great to serve on a Committee with people working hard to improve our club. Also great to see training class members featuring in 4 out of the 6 prizes awarded again!!!!!"
Gary Collier. PTA Training Co-ordinator
---
Match Clwyd Retriever Club v PTA – May 20th 2018 – Soughton Hall

Judges: John Benyon (PTA), Terry Dukes (CRC)
Chief Steward: n/a

Winners: Pennine Training Area
"After our disappointing show in the four way match it was great to get the team back to winning ways in our annual match with the Clywd Retriever Club. A great all round team effort topped by 1st in the Open for Scott Marland, 1st in the Novice for Michael Nelson, and 1st in the Puppy for Linda Scott. Well done all team members.
Clywd delivered an enjoyable well organised day at Soughton Hall shoot in hot sunny weather and a delicious buffet in the shoot lodge after. Extra classes in the last 2 weeks have helped bring a young team a bit further on and it was nice to see some new and old friends enjoying running for both the CLWYD and the PTA"
Gary Collier. Training Co-ordinator. PTA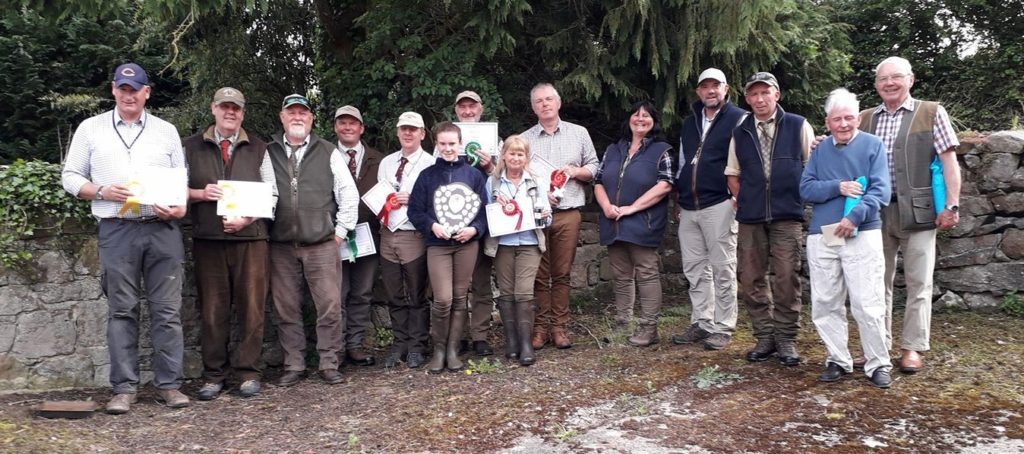 Team members were as follows:
Puppy
Amy Collier
Mark Palmer
Kevin Jackson (third)
Linda Scott (winner)
Novice
Paul Newton
Steve Burns (fourth)
Karen Parkinson
Mike Nelson (winner)
Open
Gary Collier (fourth)
James Murphy (second)
Scott Marland (winner)
Gary Lakey
---
Four Way Match – Sunday 29th April 2016 – Whittington Hall
By kind permission of Lord Wreay, and Gamekeeper Andrew Mickey.
Judges: Karen Parkinson, Peter Thompson, Anna Licciardi, Paddy Merrill
Pilling Moss Gundog Club hosted the day with teams from Burns & Becks Gundog Club, URC Northern, and the PTA also competing in this annual event.
1st place: Burns & Becks Gundog Club
2nd place: URC Northern
3rd place: Pilling Moss Gundog Club
4th place: PTA
Team
Puppy
Linda Scott with Brocklebank Carson
Kevin Jackson with Garagill Velocity
Novice
Alan Pearson with Kenquince Rising Kite
Daniel Astley with Shadeoak Rusty

Open
Scott Marland with Greenbriar Tame
Gary Collier (team captain) with Thornyoaks Tanzanite
"Congratulations to Burns & Becks for winning the 4-Way Match yesterday. What a brilliant day it was. I had the pleasure of being one of the judges, and enjoyed seeing some fantastic dog work. Thanks goes to Pilling Moss Gundog Club and Brenda for organising the event on absolutely superb ground. Well done to all the award winners"
Karen Parkinson. PTA General Secretary, PTA judge.
"Pilling Moss Gundog Club hosted the Interclub Four-Way Match at Whittington Hall on Sunday 29 April 2018.  We are very grateful to Lord Wreay and his Gamekeeping staff for allowing us the use of his ground.  The ground was very strong – there were many remarks about "sending us mountaineering" however it was wonderful ground on which to run the dogs.
Our judges for the day were Anna Licciardi, Paddy Merrill, Peter Thompson and Karen Parkinson, who all did a sterling job and we really appreciate all they did.  The weather was kind to us, we just got a tiny shower late in the day, there was enough breeze for scenting and it remained quite cool.  
Everyone did full justice to the sumptuous afternoon tea put on by the Pilling Moss Ladies at the end of the day – if anyone went home hungry – it was their own fault!
Thank you to everyone who helped – especially the dummy throwers and stewards who kept everything running.  Special thanks to our own Chair, Brenda Lawson who was the driving force behind the match, she worked so hard behind the scenes and on the ground to make sure this match came about.
Thank you to Burns and Becks' Kirsty Ranson who came to the rescue when Vince Price's dog injured herself.
We look forward to seeing you all on Burns and Becks ground next year!"
Marilyn Smith, Match Secretary. Pilling Moss Gundog Club.
Event photos are available to view at: https://www.sykesmedia.co.uk/albums
---
Puppy, Novice Dog/Novice Handler, Novice, Veteran Working Tests for A.V. Retrievers – Sunday 8th April 2018 – Aston by Sutton

Kindly arranged by Mr J Murphy
Judges: Mr G Collier, Mrs L Marson, Mr G McCarthy and Mr J Murphy
Chief Steward: n/a
Puppy Test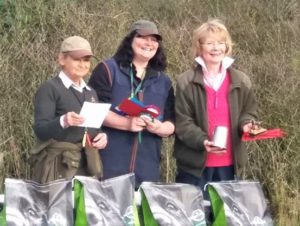 1st place: Christine Thompson with Garrenwell Kate
2nd place: G R Carter with Latus Hall Pippin
3rd place: Richard Cawthray with Viking Valentino

Novice Dog / Novice Handler Test
1st place: Mandy Telfair with Upperaughton Mandy
2nd place: Henry Carter with Gallanach Minke of Latus Hall
3rd place: Bill Dewhurst with Throppswood Manderin of Claybrook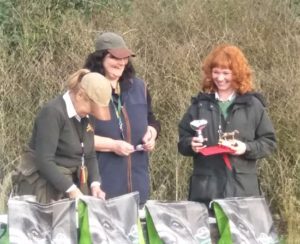 4th place: Paula Mayo with Isle of Man at Ciarwood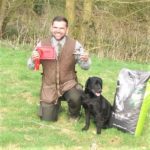 Novice Test
1st place: Chris Pilkington with Shadeoak Major
2nd place: Morag Richie with Berrylaw Aberlour
3rd place: Elaine Chappell with Crooksber Lark
4th place: John Benyon with Hultonwood Hazel
Certificate of Merit: Judith White with Minstead Costello
Veteran Test
1st place: Christine Thompson with Jenkmosside Enchanted Moss 
2nd place: Joan Pavelyn with Lady of Tranquility
3rd place: Trefor Richards with Ludbeke Endurance of Tamewater
4th place: Barry Prescott with Marsh Finch
---
Open Working Test for AV Retriever – Sunday 4th March 2018 – Eagland Hill
By kind permission of Mr & Mrs M Pilling
Judges: Mr J Yarwood, Mrs R McIlroy, Ms K Parkinson, and Mr T Richards
Chief Steward: n/a
1st place: Victoria Stanley with Minstead Maigret
2nd place: Vince Price with Gallowayrose April
3rd place: Gary Collier with Thornyoaks Tanzanite
4th place: Victoria Stanley with FTCH Patanavac Brough
Certificate of Merit: Amy Collier with Brocklebank Vital
Certificate of Merit: Judith White with Minstead Axel
Certificate of Merit: Ken Littlemore with Labdom Scoter of Middlebrook
Certificate of Merit: Scott Marland with Greenbriar Tame