Results 2021
Working Test, Match, and other results for 2020 are listed here. Score cards are sometimes available as Adobe Portable Document Format (PDF) files. Please click on any 'Scores' links below to open the chosen file in a new window.
You'll need Adobe Acrobat Reader on your computer to allow you to read PDF files.
Click on the link below to download and install.


The results and rosettes awarded are colour coordinated as follows:
1st place: RED
2nd place: BLUE
3rd place: YELLOW
4th place: GREEN
Certificates of Merit can also be awarded.
PTA working test results will always be published as soon as possible.
2021 Working Test Results and Match scores – Reverse chronological order
---
Novice Working Test for A.V. Retrievers – Sunday 5th September 2021: Christmas Trees – Bolton
By kind permission of Mr P Haley
Judges: Kelly Rogers-Davison, Kevin Knowles, and Arthur Telfair.
Chief Steward: n/a
1st – Ashwynd Lemon Spirit with Kim Dutton
2nd – Rylandson If He Will with Caroline Wainwright
3rd – Applebriar Jet with Roz McIlroy
4th – Jaycote Game Brook with Scott Marland
COM – Smithies Annie with Julie Hunter
COM – Latushall Pippin with Gill Carter.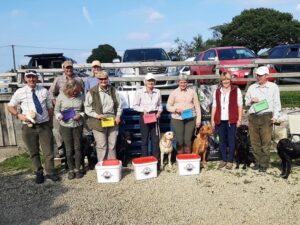 "Absolutely fabulous day today at our Novice test at Paul Haleys Christmas Trees. The sun was shining and we were all in good spirits and enjoying our dogs – good results or bad. A very big thank you to our helpers and dummy throwers as we couldn't do all this without you. Also thanks very much to our wonderful judges.
On behalf of the committee I would also like to give a massive shout out to our fabulous sponsors – "WUFFITMIX" – we were all absolutely thrilled by their level of support to the PTA – bags of dog food for the first 4 dogs, plus vouchers for the top 2, buckets for the first 3 and goody bags for the first 4 and 2 COMs. I don't usually do this, as folk feed what they feed, but I can honestly say that I feed our dogs on Wuffitmix and it really is fabulous stuff. Thanks very much to

Hannah O'Hare

and

Tony O'Hare

for your generosity as it's very much appreciated.
Very well done to all in the awards, as I think all other competitors will agree, that completing all 6 tests was no easy feat!
Already looking forward to next spring when we can put even more tests on for you all.
For those of you who trial, have a fab season.
Keep an eye on our FB page as we are hoping that our usual monthly training sessions will resume…shortly.
---
Open Working Test for A.V. Retrievers – Sunday 11th July 2021: Christmas Trees – Bolton
By kind permission of Mr P Haley
Judges: Mr W Skett, Mr J Benyon, Mr K Jackson, G Lakey.
Chief Steward: n/a
"Well what a brilliant day at the Pennine Area test at Paul Haleys Christmas Trees. Thanks very much to our Fab sponsors Wuffitmix who gave bags of dog food and also goody bags for the dogs in the awards. Thanks to Wayne Skett, John Benyon, Kevin Jackson and Gary Lakey for judging and also thanks to all our dummy throwers and helpers. Also thanks to the Landowner Mr Paul Haley. The weather stayed fine for us and the dogs were very much put through their paces on 8 tests. In the awards were:-"
1st – Mike Nelson with Turpingreen Curry
2nd – Henry Carter with Gallanach Minke of Latushall
3rd – Richard Cawthray with Viking Valentino
4th – Mark Palmer with Calonbride Diplomat
COM – Peter Thompson with Hawksgarth Kokomo of Diesel Brook
COM – John Drury with Isleofman Divo of Brenjon
"Well done everyone it was lovely to get back to doing what we love and it was great to see you all.
Karen x"
– Karen Parkinson

Many thanks also to our sponsors: Wuffitmix, Gundog Gear, and Buchans Kennels.
---