Results 2019
Working Test, Match, and other results for 2019 are listed here. Score cards are sometimes available as Adobe Portable Document Format (PDF) files. Please click on any 'Scores' links below to open the chosen file in a new window.
You'll need Adobe Acrobat Reader on your computer to allow you to read PDF files.
Click on the link below to download and install.


The results and rosettes awarded are colour co-ordinated as follows:
1st place: RED
2nd place: BLUE
3rd place: YELLOW
4th place: GREEN
Certificates of Merit can also be awarded.
PTA working test results will always be published as soon as possible.
2019 Working Test Results and Match scores – Reverse chronological order
---
Open Working Test for AV Retrievers – Sunday 4th August 2019 – Dalton Hall. (walked-up test in cover crop)
By kind permission of: Mr Mike Taylor
Judges: Mr Wayne Mitchell, Mr Mike Nelson, Mr Wayne Skett, Mr Trefor Richards
Chief Steward: n/a
"It was our last PTA test of the season today, and what a fab day it was. The Walked Up test was held in superb fields of Fodder Crops by kind permission of Mike Taylor. The judges did a fantastic job led by A Panel Judge Wayne Mitchell with Michael Nelson, Wayne Skett and Trefor Richards. Also thanks very much to dummy throwers, Mark Palmer, Scott Hoyle, John Lupton and Neil Whittaker. Our dog steward was Jill Cummings who did a brilliant job. Thanks to Lee-Ann Whittaker who held the 2nd dogs for competitors and also sold the raffle tickets, and thanks goes to Peter Thompson who provided a fab buffet for the judges and had also bought helpers and judges bottles etc.,
A very big thanks to our sponsors, "Wuffitmix" for providing 3 bags of dog food from their brilliant "Active" "range, and to Gundog Gear and Buchans Kennels.
The weather was very kind to us and it only starting raining when we lined up for a photo at the end. The award winners were:
1st Henry Carter with Gallanach Minke of Latushall
2nd Sonja Ludwig with Esheils Tancredi
3rd Peter Thompson with Eiderbay Piper of Dieselbrook
4th Mo Ritchie with Berrylaw Aberlour
COM Karen Parkinson with Torrisdale River"
Karen Parkinson. PTA General Secretary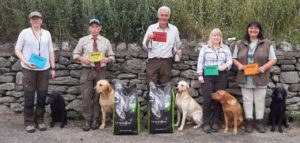 ---
Puppy and Novice Working Tests for A.V. Retrievers – Sunday 7th July 2019 – Haighton

By kind permission of Mr Geoff Saint
Judges: Mr P Thompson, Mrs K Parkinson, Mr T O'Hare, Mr D Miller
Chief Steward: Mr Gary Lakey
Puppy Test
1st place: Adrian Blackledge with Ingdalehowl Orrcus at Turtonmoor.
2nd place: Lynda Illingworth with Jaby Star Apple
3rd place: Adrian Blackledge with Jaycote Firefly at Turtonmoor
4th place: Lisa Marson with Jaycote Fallow
Novice Test
1st place: Phil Goulden with Drumgoose Iceman
2nd place: Jill Cummings with Brocklebank Delight
3rd place: Lisa Wadeson with Auslander Valentine
4th place: John Benyon with Hulton Wood Hazel
"Fab day at our PTA test on Geoff Saints Ground at Haighton near Preston. Thanks very much to Geoff and Robert for letting us use their fantastic ground and also to judges: Derek Miller, Tony O'Hare, Peter Thompson and myself. Also thanks to all the dummy throwers, stewards and helpers who readily help out at our tests and who we couldn't do without. Thanks also to our Treasurer, Christine Thompson who made the delicious judges lunches and snack packs for the helpers.
Thanks to our wonderful sponsors the winners also received a bag of dog food from Wuffitmix and Phil Goulden won a £25 gift voucher for having the highest score overall, from Gundog Gear."
Karen Parkinson. PTA General Secretary
---
Puppy, Novice, and Open Working Tests for A.V. Retrievers – Saturday 15th June 2019 – Lupton

Arranged by Mr G Lakey
Judges: Mr A Fryer, Mr P Thompson, Mr J Benyon, Mr P Goulden
Chief Steward: Mrs Karen Parkinson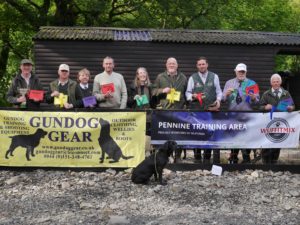 Also a big thank you to our sponsors Buchan's, Gundog Gear, and Wuffitmix for their support and for prizes donated.
"Pennine held their third test of the season at the Lupton Shoot today. Thanks very much to judges; Alan Fryer, John Benyon, Phil Goulden and Peter Thompson. Also thanks to all our wonderful dummy throwers and helpers, and to Christine Thompson whose help was invaluable today, and to Brenda Drury for selling raffle tickets. Massive thanks to our sponsors Wuffitmix, Gundog Gear and Buchan Kennels".
Karen Parkinson. PTA General Secretary.
Puppy
1st place: Adrian Blackledge with Jaycote Firefly at Turtonmoor
2nd place: Bill Dewhurst with Claybrow Red Rambler (also won under 12 month puppy award)
3rd place: Gary Lakey with Hawksgarth Garry
4th place: Bill Dewhurst with Claybrow Brisburn Billy
Novice
1st place: Chris Kettle with Ristbrow Bertie
2nd place: Phil Gilmore with Lowforge Sally Maclennane
3rd place: Les Earl with Millbuies Gail
4th place: Hilary Richards with Drakeshead Beaver of Tamewater
COM: Victoria Waterfield with Brocklebank Diamond
Open
1st place: Tony O'Hare with Tyrrelison Star Dreamer
2nd place: Steve Townsend with Isle of Man Christon
3rd place: Scott Marland with Greenbriar Tame
4th place: Richard Cawthray with Viking Valentino
COM: Avril Marland with Torrisdale Loch
COM: Bill Dewhurst with Kelmagra Billy
COM: Steve Townsend with Ruby Wishes
Photos have been published on the Gallery page.
There's also a short video on Youtube
---
Four Way Match – Saturday 11th May 2019 – Lupton
By kind permission of Daniel Redfearn.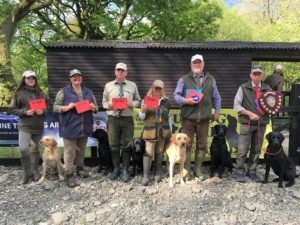 Judges: n/a
1st place: Pennine Training Area
2nd place: Burns & Becks Gundog Club
3rd place: Lancs and Mersey Field Trial Society
4th place: Pilling Moss Gundog Club
Well done team:
Gary Lakey
Peter Thompson
Karen Parkinson
Linda Scott
Scott Marland
Amy Collier

"Glorious weather, glorious ground and glorious result.
Massive thanks to all today's dummy throwers – you are absolute stars. Without your help we couldn't have days like this,one of the best working tests I've been to, fantastic camaraderie between teams judges and officials, a friendly atmosphere with good banter.
Well done Peter Thompson first puppy first team and top dog a future super star and together with Gary Lakey's young dog Gunner, (second in puppy ) representing our pups in the final team test they showed the older dogs how it's done!!!!
Proof if any needed our training classes are working well !!!!"
Gary Collier. PTA Training Coordinator
---
Puppy, Novice Dog/Novice Handler, Novice, Veteran Working Tests for A.V. Retrievers – Saturday 13th April 2019 – Aston by Sutton

Arranged by Mr J Murphy with the kind permission of Mr Andrew Talbot and Mr Graham McPherson
Judges: Mr G Collier, Mrs L Marson, Mr G McCarthy, and Mr J Murphy
Chief Steward: Mrs Linda Scott
Puppy Test
1st place: Peter Thompson with Lab D Hawksgarth Kokomo Of Dieselbrook
2nd place: Gary Lakey with Lab D Hawksgarth Garry
Novice Dog / Novice Handler Test
1st place: Edith Kreutner (Austria) with GR B Auchencloch Fable
2nd place: Scott Hoyle with LAB B Demeter Honey
Novice Test
1st place: Julie Hunter with LAB B Rexy's Girl In Frosterley
2nd place: Mike Pilling with LAB B Torrisdale Puddle At Goosedown
3rd place: Julie Hunter with LAB B Smithies Annie
4th place:Hilary Richards with LAB D Drakeshead Beaver Of Tamewater
Certificate of Merit: Danny Astley with LAB D Shadeoak Barley
Veteran Test
1st place: John Benyon with LAB B Hultonwood Geisha
2nd place: Joan Pavelyn with LAB B Lady Of Tranquility
3rd place: Paul Murphy with LAB D Magnificent Maximus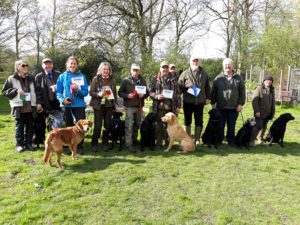 "Thanks to the landowner, the shooting syndicate and James Murphy for allowing us to use a venue that offers different and challenging opportunities to test our dogs in superb woodland and arable situations.
Thanks to our sponsors WUFFITMIX, Gundog Gear, and BUCHANS Kennels for their continued support.
Great to see so many committee members in the awards on "tests" set at the correct level to provide a necessary challenge for the competing dogs."
Gary Collier. PTA Training Co-ordinator
---
Open Working Test for AV Retrievers – Sunday 31st March 2019 – Hoghton
By kind permission of Mr L Redfearn
Judges: Mr W Mitchell, Mr K Jackson, Mrs B Lawson, Mr P Thompson
Chief Steward: n/a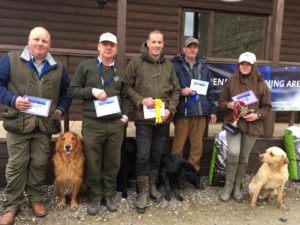 1st place: Miss Amy Collier with  LD Brocklebank Vital
2nd place: Mr Kevin Knowles with LD Greenbriar Waltz
3rd place: Mr Alan Pearson with LD Kenquince Rising Kite
Certificate of Merit: Mr Scott Marland with LB Greenbriar Tame
Certificate of Merit: Mr Robert Tomlinson with GRD Pioneer Teal of Yukon Gold
"Well done the Pennine Training Area!!!!!!
W/test secretary Linda Scott Committee members Gary Lakey, Peter Thompson and General Secretary Karen Parkinson.
You did the club proud in organising a fantastic open test today at Hoghton.
In the words of A panel judge Mr Wayne Mitchell a brilliantly organised day that was a pleasure to judge with great challenging but achievable tests . Committee members not running their dogs together with our team of helpers worked in delivering a thoroughly enjoyable friendly and efficient test."
Gary Collier. PTA Training Co-ordinator
---